USING SUNSLICKER SOFT BAITS
Whilst the Sunslicker range of lures have multiple rigging options and we are sure you will have your own favourite methods through past experience, sometimes a little guidance is needed to achieve the best from your baits.
Sunslicker recommends that when choosing jig heads to mount lures, that you use a high quality, strong fine wire hook without a large moulded lead retainer.
If you choose to use a retainer we suggest using heads with a fine lead or wire retainer. All too often lead retainers can tear soft baits or make them bulge. Removing the lead retainer is easy with a sharp pair of snips – The bait can then be secured to the jig head with a small drop of super glue.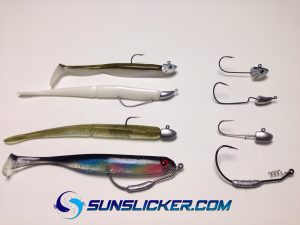 When using weighted hooks (as suggested below each lure in the shop), this can be a swim bait hook with a hitchhiker coil that screws into the front of the bait, or a weighted texas hook. If using the latter please do not try and pass the weighted part through the bait, simply pierce the front of the lure with hook, remove and insert the eye of the hook from the bottom and push out of the front.
all Sunslicker baits are hand packed with the utmost of care. However if after being through the postage system your paddle tails have become misshaped and out of alignement, don't worry. Simply dip the tails in boiling water for approx 1 minute, set the lure on its back perfectly straight and leave for 10mins – your tails should now be perfectly straight.
Now have some fun and catch !